Top Chiropractor For Auto Accident Injuries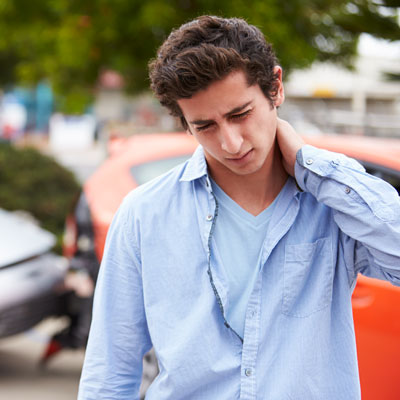 Whether you've been involved in a low-speed fender bender or a more serious collision, it's vital to seek care as soon as possible. Dr. Michael Eggleston has treated over 2,000 patients with car crash injuries in Arkansas.
He has held memberships in the Society of Automotive Engineers and the Association for the Advancement of Automotive Medicine and has completed post-graduate studies in whiplash and spinal trauma. Dr. Eggleston is also certified in Motor Vehicle Crash Forensic Risk Analysis.
Dr. Eggleston's experience in dealing with Arkansas car wreck injuries not only helps patients recover faster and fully but decreases the chances of having whiplash-associated problems in the future.
Whiplash Treatment in Fayetteville
Auto accidents often cause whiplash injury by violently forcing the head and neck backward (hyperextension) and forward (hyperflexion). The injury is often worse if the head was turned at the time of the accident. Often you cannot feel it right away and then the next day, the pain begins to settle in and becomes worse over time.
There are three million whiplash injuries in the U.S. every year. Whiplash leads to long-term disability in 10% of people injured in auto accidents, and 30-50% of whiplash victims never fully recover if left untreated. Here are common whiplash symptoms:
Neck pain
Headache
Mid and low back pain
Arm and leg pain and numbness
Shoulder pain
TMJ or jaw pain
Anxiety and fatigue
Sleep disturbance
Specialized Treatment for Whiplash
Whiplash can be diagnosed with an examination or using X-rays. The course of treatment will be specialized depending on the extent of your injury. Physical rehab consisting of myomassage, electric muscle stimulation, cold therapy, exercising and stretching will be performed. Chiropractic treatment of whiplash injuries gently realigns the spine and helps regain muscle strength and flexibility.
FAQ
I've been to the hospital and my medical doctor. Do I really need to see Dr. Eggleston?
Often, an ER doctor does an examination to only rule out life-threatening injuries. A thorough evaluation is necessary to evaluate and document whiplash or soft-tissue injuries. Dr. Eggleston takes special X-rays to evaluate these injuries and does certain computerized tests to determine the extent of the injuries.
Even though muscle relaxers, painkillers and anti-inflammatory medications are sometimes helpful initially, they often mask pain and don't prevent future problems from developing. Dr. Eggleston does therapy and rehab that helps the spine heal so the extent of these injuries is minimized in the long term.
Do I have to pay out of pocket for the treatment?
Our staff is trained to contact the responsible party's insurance company and advise them that you are receiving treatment. We will treat you on an assignment basis which means you don't have to pay for the treatment each day. Once we complete all necessary treatment, we will send all the records and the bills to the insurance company and no payment will be expected until your case is settled. Most auto insurance pays 100% of treatment costs.
I have not heard from the insurance company. Do I have to wait until they contact me?
No. If you are injured, it is very important that you get evaluated immediately. Often, it takes weeks or longer until the insurance company contacts you. Just notify our staff of any information that you have regarding the accident and we will contact the responsible insurance company.
Does the treatment in Dr. Eggleston's office hurt? Is the treatment safe?
Dr. Eggleston uses gentle techniques that are soothing and provide relief of pain. While there are possible side effects to any treatment, chiropractic care and therapy are extremely safe especially compared to the possible side effects of drugs and surgery. We will do a thorough evaluation to rule out any conditions that may prevent you from receiving care and refer you to someone else if we feel we cannot help you.
for treatment of my injuries?"]
Dr. Eggleston has many years of experience and has treated thousands of patients who have injuries similar to the ones you may be experiencing. "My staff and I will help you with the necessary paperwork and will refer you to a specialist if needed," he said.
In addition to caring for your auto-related injuries, we can provide a comprehensive evaluation of injuries sustained and will provide your insurance company and/or attorney with full documentation of findings.
Health Insurance
Dr. Eggleston is a preferred provider for all major insurance companies. We accept all auto accident insurance, all major health insurance and Medicare, and will file for you. Our professional staff will be glad to check on your benefits and discuss them with you before beginning treatment.
Get Convenient Care You Can Trust
Our office provides same-day appointments and convenient appointment times so you can get the care you need at a time that suits you. Give Eggleston Chiropractic & Rehab a call today!
---
Auto Accident Injury Treatment Fayetteville AR | (479) 575-0105