Meet Dr. Michael Eggleston
THE CHIROPRACTOR WITH THE SABER CAN HELP YOU!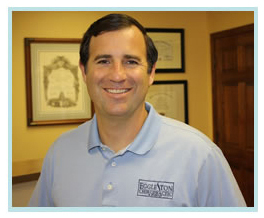 After practicing chiropractic for over 25 years, I have treated thousands and thousands of patients with a variety of conditions. It never ceases to amaze me all the different things that chiropractic can help. I have treated patients ranging from newborn all the way to over 100 years old.
I think I get the greatest satisfaction helping those who have had chronic pain and have not responded to any other type of treatment. Often, these patients have given up hope on ever getting better and we are able to get their lives back for them.
Education
Don't worry, I don't use my saber for treatment. I am a graduate of the United States Military Academy at West Point and people often comment on the saber displayed in my office.
Whether I was competing as a state champion discus thrower and Division I college athlete, parachuting out of airplanes or driving an M1A1 tank across the desert, chiropractic care has always kept me going and that is why I decided to become a chiropractor almost 30 years ago.
After earning a Bachelor of Science in Engineering Management from West Point, I served as an United States Army Officer in the Armor Field. I then attended Parker College of Chiropractic in Dallas, Texas where I earned a Bachelor of Science in Anatomy and a Doctorate of Chiropractic. I have also done postgraduate work in whiplash and spinal trauma.
Family
I have been married for eighteen years and have three daughters ages 16, 14 and 12. My wife, Blythe, works at the University of Arkansas. Our family attends St. Paul's Episcopal Church in Fayetteville where our two oldest daughters sing in the choir.
Blythe spends a great deal of her time serving the children and parents in the community as a certified child passenger safety technician. She works alongside law enforcement to provide car seat inspections for parents and caregivers.
Eggleston Chiropractic & Rehab is a proud member of Arkansas Safe Kids Coalition though the Arkansas Children's Hospital in Little Rock. We provide free car seat inspections to anyone and we participate in community car seat inspection events.
Outside the office
Outside our Fayetteville chiropractic office we enjoy many outdoor activities in Fayetteville and Northwest Arkansas. This year we have enjoyed hiking and camping at Devil's Den. We spend a lot of time at Hobbs State Park as well. However, most Saturdays you will see us at the Fayetteville Farmer's Market buying ingredients for dinner. And, of course, we enjoying being Razorback Fans! My daughters love the gymnastics team and a fall Saturday isn't complete without a Razorback game.
Philosophy
Optimum Health is of utmost importance to me. My family and I receive chiropractic care on a regular basis. I think it is very important for parents to teach their children a healthy lifestyle by being a good example. The Eggleston family exercises daily and tries to eat healthy nutritious meals.
Chiropractic care continues to benefit me everyday allowing me to enjoy the things I love-scuba diving, mountain biking, running, kayaking, swimming and especially hiking with my three young daughters.
I always ask my patients, "If you continue to do the things you have been doing, do you think you will ever get better?" It's time to try something new and different. It's time to try Eggleston Chiropractic & Rehab.
Even if you have tried other options, call me today and see if I can help you. I've helped thousands of patients in pain and you could be next.
---
Dr. Michael Eggleston | (479) 575-0105